REFUSE
ULINE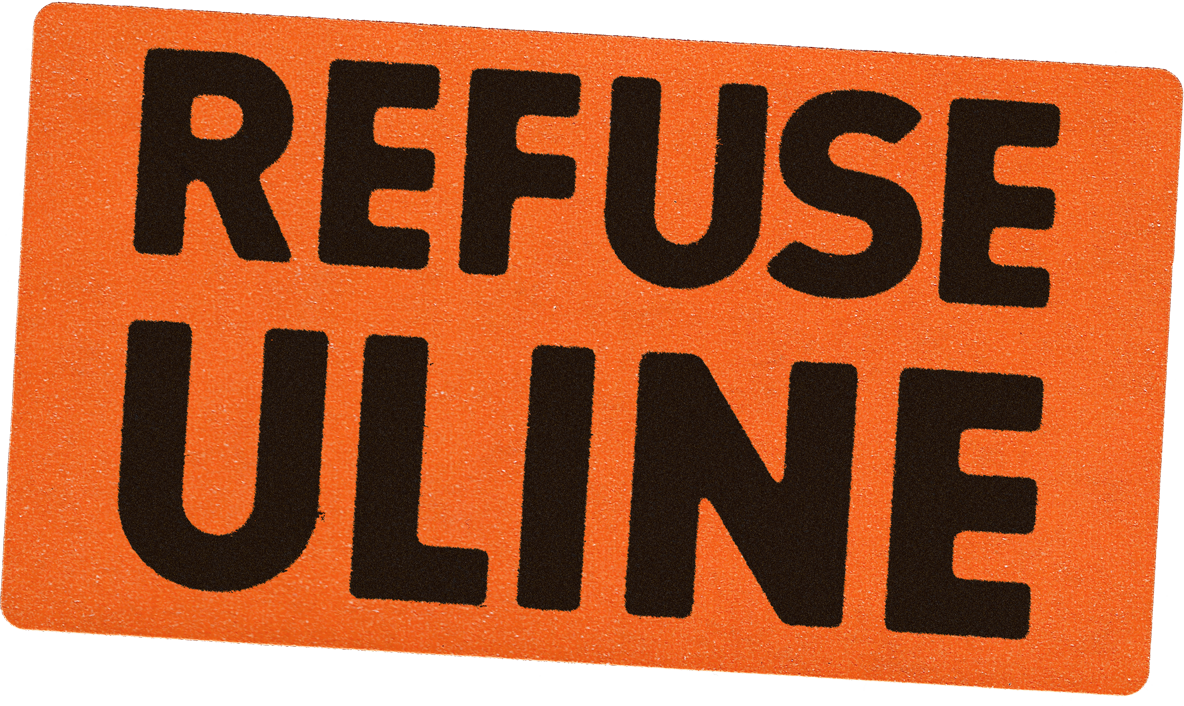 WHO THE HELL IS ULINE?


If you've received a box in the mail recently, you've likely touched ULINE. As North America's largest distributor of shipping, packaging and industrial supplies, ULINE is an omnipresent supplier in today's shipping-fueled economy. ULINE was founded in 1980 by Elizabeth and Richard Uihlein—heirs to the Schlitz beer company fortune. ULINE has grown to offer close to 40,000 products and has more than 7,000 employees—seems like a true midwestern success story, right?


ISN'T THAT THEIR PRIVATE BUSINESS?

Nope. It goes beyond private ideology and donations—in each ULINE catalog Liz Uihlein brings her conservative politics directly to her customer base with a "
letter from the president
" where she broadcasts her right-wing political views openly to millions of customers.
SHOPPING ULINE IS SUPPORTING EXTREME RIGHT-WING POLITICS


Despite their politics, millions of small businesses, non-profits and artists still use ULINE completely unaware of what their dollars are supporting. This needs to end now: REFUSE ULINE.

'REFUSE ULINE'
SHIPPING DECALS
Stick them on the boxes you ship for your business. Send a pack to your favorite small businesses to show them that their customers care. Slap them on return boxes to companies that still use ULINE. Stick them up around the shipping department at your job.


WHAT ALTERNATIVES ARE OUT THERE?
While we can't vet the political affiliations of every company below, rest assured that none are funneling as much dark money into far-right extremism as ULINE.
WHAT ABOUT CANADA?
Our more civilized North American cousins want to avoid ULINE as well.